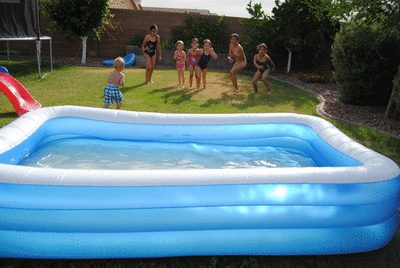 yesterday i picked up addie ( and some other kiddies in our neighborhood ) from school. i was excited school was out! probably more than the kids themselves! we waved goodbye to the teachers and they told me all about their end of the year parties. we got home, threw addies back pack in the garage and i felt a sigh of relief. i had my little one home.
they had some neighborhood girls over that afternoon and we filled up the pool. they had a great end of the year bash. addie actually lost her voice!
today the kids got up and played some pbskids.org while i layed in bed. no rush to get addie ready and out the door. i eventually rolled out of bed and made them some pancakes. i went on a short run and then we got dressed and ready for the day. to the library it was. we checked out SO many books! it was awesome! we can check off starting the library reading program off our summer to-do list. the kids read for over and hour today on their own. we even read 2 chapters of their newly checked out Judy Moody book. im so happy that they love to read!
we then got out our activity books that i got them from costco. they will hopefully keep addies handwriting and reading in check. callie also needs to get used to having sit down, work on #s, letters, & strategies time for preschool, which i will admit, i have not done that with her enough.
they are now on the wii dance while walker is napping and i can have some alone time. im looking up pippi longstocking chapter books to read with them before bed. :)
im feeling good about this summer. im feeling like it wont be as bad as i had imagined. im just going to stick with doing fun things that will keep their minds sharp so we dont all get in a rut.
we welcome you summer.